Koi Rok Toh De Lyrics – Vkey & Ashu Twinkle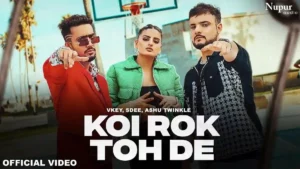 Song Koi Rok Toh De Lyrics sung by Vkey & Ashu Twinkle. Music is given by Sdee and Lyrics written by Vkey.
| | |
| --- | --- |
| Singer | Vkey, Sdee & Ashu Twinkle |
| Music | Sdee |
| Song Writer | Vkey |
Koi Rok Toh De Lyrics
Tanne kyu thha rakhya hai keher
Palrya gunda te tu vair
Log ye lewe naam rr tera
Kaal jo katal hoya mere seher
Haath mai jodu tere aage
Baat ya meri le tu maan
Kaal ne tere je kimi hogya
Jeete-jee marjya teri jaan
O mere yaar
Tu karle pyaar
Kati na hejj kare….
Teri kaali thar ne maame daily chase kare
Kyu bina baat tu heart beat meri tej kare (x2)
O seher tere mai rukka hai
Chhora kise te dabke rehta nahi
Goli chhati pe khalega
Par akad kise ki sehta nahi
Hai top shikari yaar mere
Na digge ye fukri naara pe
Jab turre kafila mahara yo
Saara road ghire se cara te
Tu khulke jeele jaan meri
Kyu kise saale te darna hai
Koi tnne ghur ke dekhe to
Unhe mere haath te marna hai
Na darna hai in kutta te
Koi bhok to de…
Tere seher me gede laagenge koi rok to de
Udde golli thha thha chalegi
Koi tok to de (x2)
Je teri gell koi pajegi
Dharu gun point uhke maathe pe
Pura seher jala ke dhardungi
Na baat howe sannate te
Tera khof seher me bera mnne
Na kise te kam ya jaan teri
Mere pe hak bas tera hai
Rahu teri sada juban meri
Arr gell khdya je tu
Kon ferr case kare…..
Teri kaali thar ne maame daily chase karre
Kyu bina baat tu heartbeat meri tej kare
Jaan tu khode man te vehem
Yaar tera ek ek ne thawe
Terte de raakhi puri chhut
Maarde goli jiske chahwe
Haath mai jache dunali tere
Na kaale dhaage sherni paawe
Seher saara fuuk ke rakh jab hojya
Gail mere left seat pe tu aawe
Wa kaali car tu leke apni
Mnne college chhodan aawe
Banke utt pardhan phire jo
Tnne dekh salute bajawe
Meri khatar time nhi tere pe
Tu roj taarikh pe jawe
Khyate aakh rhwe hai laal teri
Mnne sach bta ke khawe
Bata Vkey pher….
Je tera time koi chaklega
Uhke haada pe na khaal rhwe
Mera bikaner te maal aawe
Jis karke aakh ye laal rhwe
Ubaal rhwe yo khoon me rr
Arr hath mai bande khani hai
Meri kalam te nikle bol ye sunke
Aag lagge hai paani mai
Raani tu hai chand mera
Ye taare dekh ke jalle nuhe
Gudgaame me naam mera yo
Vkey-Vkey chale nyu ae…
(Movie Dialogue)
Tere seher me gede laagege
Koi rok to te
Udde golli thha thha chalegi
Koi Tok to de (x2)
Tere seher mai gede laagege
Koi rok to de
Kyu bina baat tu heart beat meri tej kare (x2)